2019 AGM news – Martyn welcomes club's new CHAIRMAN John Hough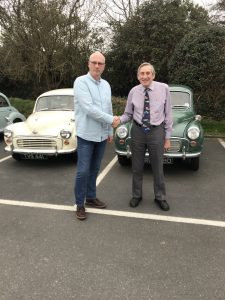 2018/19 CMMC nominated charity was CORNWALL AIR AMBULANCE 
On March 12th members visited their base at Trevithick Downs, Newquay for the afternoon and to present a cheque from monies raised by CMMC during the past year.
In April 2018 Cornwall Air Ambulance Trust launched a 2yr fundraising campaign, the New Heli Appeal, a £2.5m appeal to buy a new aircraft. 
The medically advanced Augusta Westland 169 (AW169) helicopter was chosen to become Cornwall's new air ambulance. Planning to bring this next generation air ambulance helicopter to Cornwall by April 2020, the date the lease runs out on its current aircraft.
 …. "It will provide our aircrew of critical care paramedics, doctors and pilots with the technologically advanced features and equipment they need to truly exploit their lifesaving skills. Put simply, this next generation helicopter will save more time and save more lives in communities across Cornwall and the Isles of Scilly for the next 20 years. It is the air ambulance this county truly deserves"……
The overall cost of an AW169 air ambulance helicopter is £7.5m. The charity has saved £5m towards this already and is now asking the people of Cornwall, and those who love visiting the county, to help raise the remaining £2.5m.
CMMC Members with Cornwall Air Ambulance staff
Martyn presenting CMMC cheque to member of aircrew
2019/20 CMMC nominated charity will be CHICKS (Country Holidays for Inner city Kids)  website = www.chicks.org.uk/about-us
If  you would like your photos of club events published send via email as PDF document : 
for CMMC Website = contact@cornwallmorrisminorclub.co.uk
for CMMC Magazine = editor@cornwallmorrisminorclub.co.uk